Services You Can Trust
Experience efficient transportation with our sprinter van rental service.
Sprinter Van Rental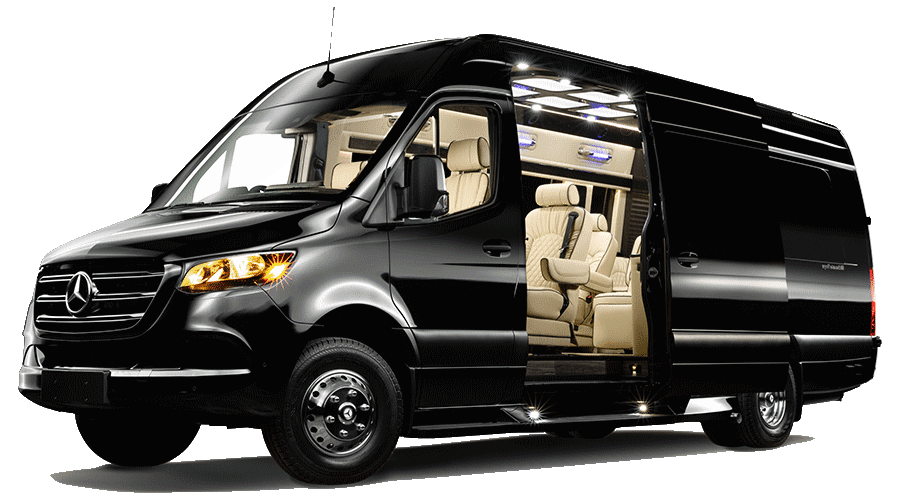 Mercedes Sprinter Van rental service is specifically an everyday ride for any kind of event. If you are searching for a luxury and the perfect vehicle for any business meeting, family trip or, airport pick and drop service then a luxury sprinter van rental is the best choice. The perfect blend of flexibility, reassurance, and style makes our Luxury sprinter a number one choice. You can make your events more glamorous and classy by renting our luxury sprinters. We provide seamless service for every occasion.
Our company's luxury sprinters are designed to meet the requirements of the executive lifestyle with TVs and a premium sound system that assures you entertainment on the road. Our sprinters are super reliable because of their long-lasting engines and they are built to easily withstand rugged landscapes. It has a mesmerizing interior with controlled heat and cool system, spacious seating areas, tall standing height, and elegant lighting. Passenger seats in the vehicle are equally proportioned making getting in and out of the vehicle safely. Its comfortable multi-functional seats allow your body to relax.
After a tiring flight, you are mainly concerned about back pain. Not to worry about it as our airport Mercedes Sprinter Van rental has transforming seats that can easily be changed into a bed, allowing the freshness of the mind to be maintained. You will surely experience pleasant sensations, touching our soft leather seats. Its excellent quality, enough passenger and luggage space are its biggest benefits for families to travel with us. The tinted and powered windows allow you to travel in privacy. A separate bar will be also available with a variety of wines, fizzy drinks, and fresh juices to deal with your mood swings. Our professional chauffeurs and experienced staff make sure that you get the best value for money and extraordinary service as well. Our luxury sprinter is your best partner for any occasion in Washington DC, Maryland, and North Virginia.
DC limo's corporate sprinter van rental is great for an offsite meeting when you want to take employees from the office to a conference centre or hotel. If you wish to make a fantastic impression on clients at sales meetings, whether you're going on a lunch or going to their place, a lavish sprinter is all you need. When you're a family of more than 10 the possibility of being able to fit in one single car is limited. Our company provides you with a full-size family car and gives you a guarantee of entertainment.
To get quote for point to point or other service type please click here.
Sprinter Limo Service
Airport travelling is very common in Washington DC, Maryland and northern Virginia. So why bother running after local taxis when you can rent our Sprinter with just one click? Maybe you're travelling for a business meeting or you're flying back home our company's rental service put forwards you ample luggage space and a stress-free ride. We make sure you receive steady and safe pickup without any delay. In short, our luxury sprinter rental service will meet all your demands.
Another occurrence on which you can hire a promising sprinter limo is prom night. Every student wants to experience a memorable high school prom night. Prom night is an important event in student's life and will stay with them as a picture memory. This night is not only about dressing up or spending a night with your date. It's about creating a long-lasting impression on your date and schoolmates. Luxury sprinter limo service can unquestionably fulfil their demands. This sprinter is also equipped with an FM radio and CD player to maintain your part mood. Also if you feel like celebrating your birthday with a group of friends, an extravagance sprinter limo service is the answer to all. Every couple in Washington DC, North Virginia and, Maryland wants their wedding to be stylish and within the range of budget for carrying their guests to the wedding venue. These sprinter limos deliver exquisiteness which is suitable for weddings.
What are you waiting for? Rent us now and avail a discount of 5% by booking us online. Our flexible policies allow you to easily rent a sprinter for as long as you need, whether it's for a weekend or a season. Luxury sprinter limo service is an all-rounder company. It is very much affordable yet never offers low-quality service. Everything great is available under one roof. Don't look around and waste your time. We promise you a satisfying and superior experience!